Adoption Process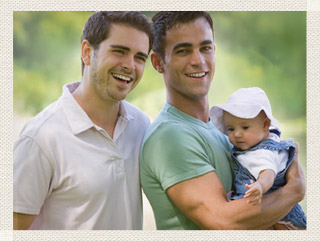 There are several types of adoption that gay couples can explore from foster care adoption, infant adoption and international adoption. It all depends on whether the agency, the state and/or the country are open to gay adoption. But the first real question to ask is whether adoption is right for you.
Here are a few things to consider carefully before and during your LGBT adoption journey.
Sort Through Your Emotions:

Are you ready to adopt? Is your partner or spouse on board? Are you prepared for a lifelong commitment? Are you financially stable?

Get Your Adoption Questions Answered:

Being informed is key. Our staff is caring, knowledgeable and ready to answer your questions on the adoption process and LGBT adoption.

Consider the Different Types of Adoption:

When choosing to adopt, you have options. Research the differences between open vs. closed adoption before deciding which is best for you.

Create an Adoption Plan:

Once you've chosen your adoption type and been connected with a birthmother, how will you carry out from here? A plan or outline is necessary to make sure your adoption process runs as smoothly as possible.

Create an Adoption Profile:

Your profile is very important to finding your future child. So how do you make your adoption profile stand out from the rest? LifeLong Adoptions will help you create an outstanding profile.

Complete the Home Study:

The home study is imperative to completing the adoption process. LifeLong Adoptions will help you through this step.

Learn About the Birthmother or Birthparents:

You will want to know just as much about the birthparents (if applicable) as they will want to know about you. Finding out background information will help you with your child's development throughout the years.

Create a Post-Placement Plan:

If you are single, do you have a support system? If you are a couple, have you discussed the responsibilities of caring for a child? Have you looked into schools or daycare programs if needed?
The adoption process is long, and can sometimes tug on the emotions. Make sure you have the necessary tools and support systems available to carry you through the process. LifeLong Adoptions strives to provide its clients with the best information possible.