LGBT Adoption Statistics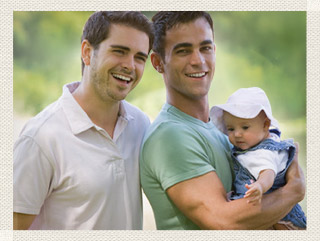 As reported on the 2000 Census, about 65,000 children lived with same sex parents. In 2012, 110,000 live with gay parents. Of the total amount of children in U.S. households, less than 1% live with same-sex parents. Therefore, children with same-sex parents are still far and away a minority.
Some people say that children need a mother and a father to raise us; to provide both viewpoints of gender: masculinity, femininity and all the issues those entail. However, there are many who believe that gender does not matter when parenting. Over the years, the number of children living with LGBT parents has risen tremendously. As the trend continues, that number will only increase, as same sex adoption and parenting becomes more and more widely accepted.
Households with Children in the US

Married
Opposite-Sex Couples
Unmarried
Opposite-Sex Couples
Same-Sex
Couples
Households with children
22,872,151
2,267,016
94,627
Biological only
90.80%
88%
72.80%
Step only or adopted only
4.40%
5.20%
21.20%
Combination
4.80%
6.80%
6%
Gay Adoption State Laws
In most states, whether gay adoption is legal is made on a case-by-case basis by a judge. However, there are 16 states that definitely allow joint gay adoptions (when a same-sex couple jointly petition for adoption): Arkansas, California, Colorado, Connecticut, D.C., Illinois, Indiana, Iowa, Maine, Massachusetts, Nevada, New Hampshire, New Jersey, New York, Oregon, Vermont, and Washington.
Other states allow second parent adoption by law. Second parent adoption is when one person adopts the child of his partner. These states include: Arkansas, California, Colorado, Connecticut, D.C., Illinois, Massachusetts, New Jersey, New York, Pennsylvania, and Vermont.
Still, people have successfully done second parent adoptions in the following 16 states as well: Alabama, Alaska, Delaware, Hawaii, Iowa, Louisiana, Maryland, Minnesota, Nevada, New Hampshire, New Mexico, North Carolina, Oregon, Rhode Island, Texas, and Washington.
The most restrictive states are Mississippi and Utah, where same sex couples cannot legally adopt at all.
For more information on LGBT Adoption Laws, check out our state by state info page.