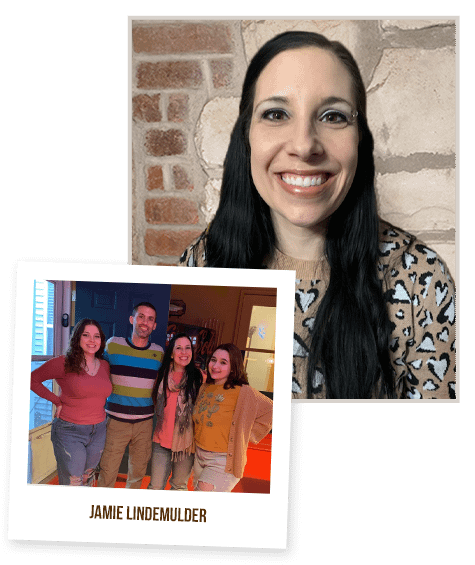 Jamie Lindemulder
Profile Coordinator
Jamie is part of the social media department and the profile department. She is responsible for developing and implementing our social media strategy. Additionally, Jamie assists with profile updates for adoptive families and creating their online profiles. Jamie enjoys spending time with her family, which includes her husband and two adult daughters. In her free time, she enjoys reading (she even has a Little Free Library in her front yard that her husband built from scratch), exploring new cities, going antique shopping, and playing mini-golf.
Q&A with Jamie
What do you do at LifeLong?

I work in both the profile department and social media. With the profile department, I create online profiles and profile updates. With social media, I create, plan and schedule posts (such as baby announcements, family updates, and more!)

When did you join the LifeLong team?

I joined the team in the fall of 2017!

What motivates you to get up and go to work?

Coffee! In all seriousness though, it's fun to do what I do. The day goes by fast, and I'm always doing something new.

What is your favorite inspirational, motivational, or positive-thinking quote?

Live your best life.

What's your personal connection to adoption?

I don't really have one, to be honest. I enjoy working with families when it's time to get their profile updated and following along their journeys. And I love reading family updates and success stories.

What advice do you have for our waiting families?

Patience is probably the most important thing to have. Trust the process. Also, make a video! I know it can be scary, but I believe it really helps.

When are you happiest?

When I'm at home with my dogs (enjoying a good book and cup of coffee). But I do love to travel. California and Texas are two of my favorite places to visit.

What is your favorite family tradition?

Yearly gingerbread contest! They always look terrible, but it's fun to do each year.

What are you passionate about?

Reading and sharing books.

What do you like to do on your days off?

Love to shop (Marshall's and TJ Maxx are my favorite stores), read, watch Netflix, and mini-golf!

Where is your favorite place to be?

My house — I'm a big homebody.

What is one thing you cannot resist?

Chocolate.

What are you proudest of?

My daughters — they are independent, smart, and hardworking women.

What books are at your bedside?

I love to read, so this is always changing.

What's your favorite TV show to binge-watch?

Happy Endings, New Girl, Absolutely Fabulous... (I have so many favorite shows)

What's your favorite movie quote?

"I'm not like a regular mom, I'm a cool mom!"
Meet the Rest of the LifeLong Team