LGBT Adoption Statistics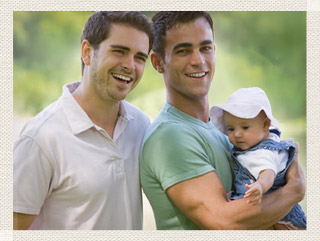 Of the 594,000 same-sex couple households in the United States, 115,000 have children. Some people say that children need both a mother and a father to raise them, but there are many others who believe that gender does not matter when parenting. Over the years, the number of children living with LGBT parents has risen tremendously. As the trend continues, that number will only increase, as same sex adoption and parenting becomes more and more widely accepted.
Households with Children in the United States1
Married
Opposite-Sex Couples
Unmarried
Opposite-Sex Couples
Same-Sex
Couples
Households with children
22,872,151
2,267,016
94,627
Biological only
90.80%
88%
72.80%
Step only or adopted only
4.40%
5.20%
21.20%
Combination
4.80%
6.80%
6%
Here are some additional statistics supporting gay adoption in the United States:
Researchers estimate the total number of children nationwide living with at least one gay parent ranges from 6 to 14 million.3
An estimated two million LGBT people are interested in adopting.4
Gay and lesbian parents are raising four percent of all adopted children in the United States.4
More than 16,000 same-sex couples are raising an estimated 22,000 adopted children in the United States.2
More than 16,000 adopted children are living with lesbian and gay parents in California, the highest number in the United States.4
Same-sex parents in the United States are four times more likely than different-sex parents to be raising an adopted child. Among couples with children under the age of 18 in the home, 13% of same-sex parents have an adopted child, compared to just 3% of different-sex parents.2
The median age of same-sex adoptive parents is 42, as opposed to 44 for comparable opposite-sex parents.2
Gay Adoption State Laws
Same-sex couples in all states can petition for joint adoption statewide. Couples may be required to be in a legally recognized relationship, such as a marriage, civil union, or domestic partnership.5
States that explicitly allow same-sex couples to petition for a second parent adoption include California, Colorado, Connecticut, Washington D.C., Idaho, Illinois, Indiana, Maine, Massachusetts, Montana, New Jersey, New York, Oklahoma, Pennsylvania, and Vermont.5
For more information on LGBT Adoption Laws, check out our state by state info page.
Sources:
(1) U.S. Census Bureau. 2010 Census Briefs.
Daphne Lofquist, Same-Sex Couple Households. Current Population Reports, ACSBR/10-03. U.S. Census Bureau, Washington, DC. 2011.
(2) Gary J. Gates. LGBT Parenting in the United States. The Williams Institute, Los Angeles, CA. 2013.
(3) Overview of Lesbian and Gay Parenting, Adoption and Foster Care. American Civil Liberties Union, New York, NY.
(4) Gary J. Gates, M.V. Lee Badgett, Kate Chambers, Jennifer Macomber, Adoption and Foster Care by Gay and Lesbian Parents in the United States. The Williams Institute, Los Angeles, CA. 2007.
(5) Equality Maps: Foster and Adoption Laws. Movement Advancement Project. Denver, CO.
Please note that the information on these pages is for educational purposes only and is not intended to be a substitute for professional legal advice. Although we update the content on these pages frequently and make every effort to ensure the information is as accurate as possible, information of this kind does change quickly; therefore, some information may be out-of-date and/or contain inaccuracies, omissions, or typographical errors.