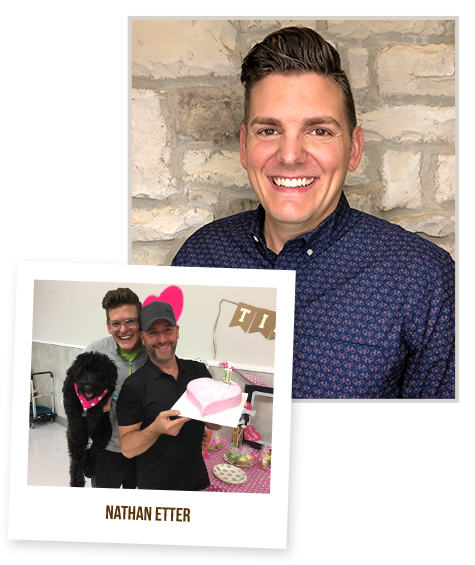 Nathan Etter
Admissions Coordinator
After an eight-year career in elementary education, Nathan was thrilled to work in the Adoption field! With his extensive communication skills and love for education, Nathan works along-side adoptive parents to help guide and educate as they initially explore the adoption journey. As a member of and advocate for the LGBTQ+ community, Nathan is proud to be a part of an inclusive enterprise whose mission is helping others achieve their dreams of becoming parents.
Q&A with Nathan
What do you do at LifeLong?

I currently work in our Admissions Department, evaluating applications, scheduling informational meetings, and answering any initial questions about the adoption process.

When did you join the LifeLong team?

I had the privilege to join this amazing family in July of 2018!

What motivates you to get up and go to work?

I am proud to be a part of an incredible mission to help families achieve their dreams of becoming parents. It is such a joy being able to work with a talented team and to experience our hard work come to fruition!

What is your favorite inspirational, motivational, or positive-thinking quote?

When adoptive parents and expectant mother connect for the first time, I always encourage both parties to be their true selves. Dr. Seuss had once said, "Be who you are and say how you feel, because those who mind don't matter, and those who matter don't mind."

What's your personal connection to adoption?

As a former teacher, I have a passion for educating and serving the community. When joining the team, this passion evolved to educating our communities on adoption so that they may provide viable options for women who are facing unplanned pregnancies.

What advice do you have for our waiting families?

Be patient, take it one day at a time, and trust the process.

When are you happiest?

I love lazy Sunday mornings curled up with my husband, our dog Lucy, Starbucks toffeenut coffee (if you haven't tried it, you need to immediately), and of course the latest Architectural Digest magazine.

What do you like to do on your days off?

During the Chicago summers, I can spend the whole weekend working in my yard. I can be very serious about my lawn, deadheading flowers, and picking weeds. Afterwards, it is so lovely to pour a glass of sparkling rosé and take in all the beauty of your hard work!

Where is your favorite place to be?

My favorite place in the world is an 18th-century restored estate in the English countryside, which I had the pleasure of staying at during a vacation with my husband. Mornings were spent strolling through the 400-acre property followed by afternoon tea in the sitting room. When can we go back?

What is one thing you cannot resist?

My mini-whoodle (mini-poodle and wheaten terrier mix) dog, Lucy! She is solid black and seriously the cutest little thing ever. Her kisses and cuddles are most certainly irresistible.

What music is on your most-played list?

Having been an elementary music teacher, my music selection is quite diverse. I might start off the morning with the musical Dear Evan Hansen, workout with country singer Dylan Scott, and chill in the afternoon with the songwriter Joshua Radin.

What's your favorite TV show to binge-watch?

I have followed NBC's This Is Us from beginning to present. Jack and Rebecca's unwavering love is so beautiful!
Meet the Rest of the LifeLong Team